Working Process of Compound Die Stamping
Compound die stamping is actually the most popular process in which the die separates or blanks a part from the steel strip existing in one stroke. It will perform the multiple numbers of punches or cuts in a single stroke when you are comparing to the multiple strokes. At the same time, it is the most cost effective and simple method for stamping from the medium to high volume parts with the reduced die costs and labors. At the same time, the compound dies are frequently used to stamp the easy flat parts like washers.
Compared to the single stage die, most of the persons now only prefer to get the compound dies which allow two or more numbers of operations or features which can be combined into one die including punching holes, blanking shapes, press ribs, draw raised hills and etc.The compound dies are really very effect for the small production runs with the restricted budget on the stamping tools. This is why it is considered as the cost effective method of producing medium to higher volume stamping parts. All the parts only have the simple structure and the staffs will take only one operation to finish them.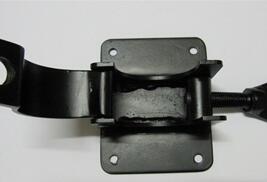 Where to Get Compound Die Stamping?
Haitong is one of the best and highly professional manufacturing companies of the different metal stamping services for the various commercial benefits. Here at this company, the team of experts has a goal to design and also build the best range of compound die stamping to exceed hundred strokes within a minute in order to provide the best support to the high volume production.
Haitong can achieve this goal by just building in the sensors and some other necessary accessories to protect the diet from the various damages. Similarly, we also consider the effective cycle time while processing the compound die stamping. The qualified, well trained and highly experienced staffs from our company can always build the compound die to stamp the parts at greater accuracy as per the individual customer needs.
Prev: Used areas of high precision stamping
Next: Quotes of metal stamping parts from London