Stainless Steel Housing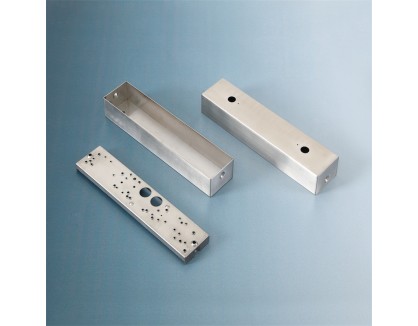 Metal stamping parts are widely used as metal casing/housing in which all electronics components and PCB board will be assembled, they are designed to be different shapes with various kinds of surface finish, metal material makes the whole light long durability and heat resistance compared to plastic parts, they can be formed by stamping, deep drawing, spinning or TIG welding.

Metal casing and metal housing are designed and fabricated widely on lighting(emergency lighting, safety lighting), electronics(DVD, battery, switch, Electronic Ballast), communication(Router, exchanger), etc. Material can be stainless steel(304, 316), mild steel,aluminum, iron with various kinds of surface finish and colors.
Item No.
HT-055
Description
stamping housing,stamping casing, metal stamping case,metal mounting housing,metal box.
Size
280X40X40MM
Machinery
80T pnumatic press machine
Material
SUS316, SUS304,SUS301 or 430 can be available per your specific requirement
Processes
Compound die stamping(blanking+bending)
Tolerance
0.10mm
Type of welding
TIG welding on 4 sides completely without any gap.
Surface finish
welding marks removal,grinding,fine brushing(400# sandpaper and nylon wheel brushing)
Packing
each piece will be packed with tissue paper,then, bubble bag and 50pcs in one export worthy carton(less than 20kg)
Environment friendly
all materials and processes are Rohs conformed.
Quality system
ISO9001
Document supplied
Yes, check reports for both dimensions and appearance, chemical composition resport,production flow chart
Application
used on switch,industrial control,communication,lighting,etc







Chemical composition and physcal characteristic
Type
C
Si
Mn
P
S
Ni
Cr
Tensile
Yield
Elongation
Hardness
SUS304
<0.08
<1.00
<2.00
<0.035
<0.03
18-20
8.0-11.0
>520
>205
>40
187HB
SUS316
<0.08
<1.00
<2.00
<0.035
<0.03
10.0-14.0
16-18.5
620
310
30
187HB