Copper Stamping Contact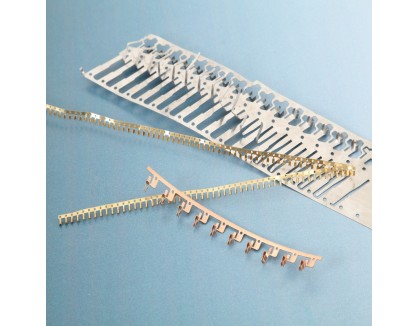 Copper stamping contacts, terminal with supper good conductivity can be used on socket, plug, switch. We manufacture them with
progressive die stamping
with large volume, the material can be brass, phosphor brass, copper, BeCu with tin, silver, nickel plating.

HAI TONG produce custom stamping parts inhouse with high speed progressive die stamping, the productivity is up to 150000pcs daily, material can be determined by customer's specific application.
Item No.
HT-052
Description
Copper stamping, brass stamping, copper contact, copper terminal, custom stamping pin.
Size
15X5X7MM
Machinery
25T high speed press machine
Material
copper(C1100) with 0.3mm thickness
Processes
progressive die stamping
Tolerance
0.01mm
Type of welding
N/A
Surface finish
silver,tin,nickel plating
Packing
500pcs per bag, 10 bags per carton,less 6kg/carton
Environment friendly
all materials and processes are Rohs conformed.
Quality system
ISO9001
Document supplied
Yes, check reports for both dimensions and appearance, chemical composition resport,production flow chart
Application
used as pin,terminal,contact,conductor on socket,plug,socket,cable,gernerator,heat exchanger,solar panel
OEM
Yes






Copper brand comparision

Type
China brand
Japan brand
Germany brand
USA brand
UK brand
Oxygen-free copper
0#
TU0
C1011
--
C10100
C110
1#
TU1
C1020
OF-Cu
C10200
C103
2#
TU2
C1020
OF-Cu
C10200
C103
Pure copper
1#
T1
C1020
OF-Cu
C10200
C103
2#
T2
C1100
SE-Cu
C11000
C101
3#
T3
C1221
--
--
--
Deoxidized copper
1#
TP1
C1201
SW-Cu
C12000
--
2#
TP2
C1220
SF-Cu
C12000
--



Characteristics of copper

1.Excellent corrosion-resistant in atmosphere,sea water,Non oxidative acid and applied widely in chemistry.
2.Super welding,it can be produced with cold or hot welding.
3.Excellent conductivity,it is second to silver on electrical conductivity and thermal conductivity,widely used on electronics.

4.Tensile can be 22-25kg/mm2,Elongation can be 45-50%,brinell hardness can be up to 35-45HB after heat treatment.