Progressive die stamping helps develop battery plate
Battery is widely used on toy, electronics, control panel, cooker, clock, redio, etc. Metal battery plate(negative pole, positive pole) are all made by progressive die stamping with large productivity and low cost. We make so many types of such battery plate inhouse for years. We offer materials such as Iron, mild steel, copper, brass, stainless steel.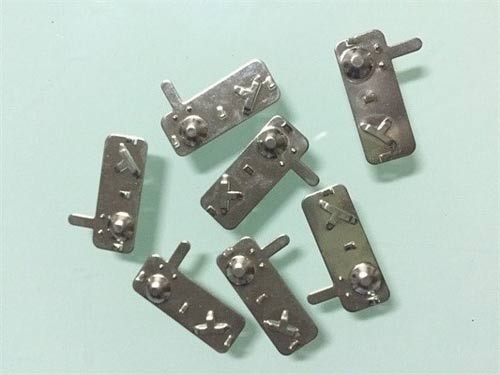 Various types of battery plate has been developed by progressive die stamping in our company with very low production coat and high precision on dimensions. Our productivity is 100000pcs-150000pcs daily with burr free. They will be silver, tin, nickel plated according to per customers' specific request, and the plating are alll ROHs compliant and the salt spray test can stand at least 72 hours with neutral solution. If you do not know how to make your stamping parts, don't worry, we will help decide how to make them economically per parts complixity, size and volume.
Welcome to contact us if you have any problems!
Contact: Bruce Luo
Tel: 86-769-87198250
Fax: 86-769-87198251
Skype: bruce_luo88
Email: bruce.luo@htmetalstampings.com
Prev: What is metal precision stamping
Next: Capabilities of Hai Tong Metal Stampings