Quotes of metal stamping parts from France
Here are the quotes of sheet metal stamping part from France clients. What stamping part do you need? If you want to know more metal stamping services, welcome to contact us: bruce.luo@htmetalstampings.com
1. Hi I am developing a new product for the industry that requires a tube 2 metres long and a bore of 150mm with folded fins (15) extending outward from OD approx 20 mm. Plate 2 -2.5mm thick. Is this within your capabilities?
2. Hello, Could you send me an offer and delivery time for the manufacturing of sheet metal parts as attached (galvanized sheet metal). Would please send me an offer for : -500 parts - 800 parts? Best regards
3. Hey guys I need a quote on 90000 of these, cut or stamped from 12ga. I need a price on hot roll, stainless and zinc coated. cost on local pickup. Any other question feel free to call. Thanks a lot
4. Good Morning - We are looking for a supplier of 5,000 pieces of Blue Tempered Grade 1075 Spring Steel stamped to the attached diagram. We have another similar design that would need an additional 5,000 pieces. Do you have the ability to produce this? We are looking to have metal buttons / pins riveted to the steel after being punched. Do you have riveting capabilities?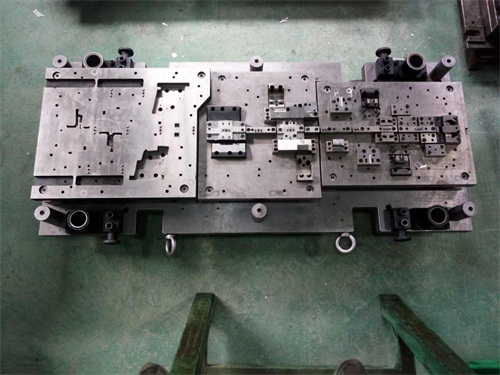 Hai Tong Metal Products Limited is a definitive source for custom metal stamping and Office sheet metal parts services. We have been established in 2003 and located in Guangdong, China and with 1600sqm, We have succeed in continuous growth accompanied by our reliable commitment and on-time delivery to customers and our ability to supply our valued customers with the most excellent quality and cost-effective metal stamping and sheet metal fabrication services.
We can perform stamping, fine blanking, bending, NCT bending,
progressive die stamping
,
deep drawn stamping
, wireform, laser cut, TIG welding, grinding in house, which can meet your requests for different processings from one supplier. China OEM metal stamping parts company supply good quality metal stamping parts to lighting, household appliance, heating appliance, hardware, architecture, IPTV set top box, DVD case, medical, led lighting, widely used as metal casing, metal case, metal stamped casing, metal housing, sheet metal casing, metal box, metal bracket, metal clip, metal clamp, metal plate, steel plate, nail stamping plate, the material we used is iron, mild steel, carbon steel, stainless steel, aluminum, copper, galvanized steel, SECC, SPCC, etc. We involve in all stages of new projects from design, prototyping, short run production, mass production, share production knowledge with customers.
Prev: Top 9 Organic Competitors for Deep Drawn Stamping on Oct 15th
Next: The best metal stamping service for manufacturing part